Services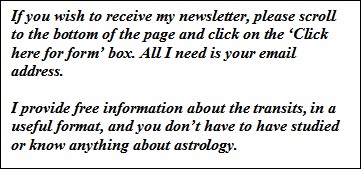 "Millionaires don't use astrology, billionaires do." - J.P. Morgan

I offer a profile of your personality via the birth chart. It includes suggestions about how to shape your future, through methods termed progressions and transits. You receive a report that I create from scratch, just for you, that is unlike any report I would write for anyone else. You're unique and the report is unique. What exactly it will include depends on what you want to know about yourself and what the future brings for you.

No one in Omaha, or anywhere else, does astrology exactly the way I do! I uncover the "big picture" of your chart and give you insights about it in plain English. I've spent years expanding my knowledge of astrology. I simply need an accurate birth time and a few days to ponder and think about your chart. The report is a permanent document for you to review and reread as you find necessary (some astrologers only give you a video or audio recording), and you also may choose to consult me live in person or by phone as part of the reading.

Scroll down to the middle of the page for more details about my services, or read more about why consulting me is useful next:


Before I started studying astrology, my life was like driving a car at night with no headlights or streetlights. Avoiding potholes and obeying street signs, so to speak, was very difficult!

Astrology can help you mitigate the bad times and maximize the good times. Example: I had a really nice year in store for me based on my solar return in July of 2012. I was determined to work harder to make it even better. How do I know it was going to be so good? Part of it was having my natal Jupiter in a configuration called a grand trine with two other Jupiters. It sounds odd (obviously we only have one Jupiter), but I saw a year of expansion and growth because my natal Jupiter made the nicest aspects with my return Jupiter and converse return Jupiter.

When I was around thirty, I had a very difficult time with my Saturn return. I wish I would have had a guiding hand to tell me what was happening and be aware of what was happening. Saturn was doing his job, telling me I was resisting my purpose in life and that I was supposed to be taking a different direction. Refusing to acknowledge this and in fact, having no idea what a Saturn return was led to a lot of unnecessary problems. An astrologer can let you know what is happening, and for how long, and what issues you are facing from the perspective of the intermediary between heaven and earth. How powerful! Now you at least have a choice about how to handle the problems, or good times as the case may be.

Inevitably life will present a querent with downturns and painful issues. This is a good time to ask an astrologer what is going on and what needs to be done to rearrange your life so you can move on. An astrologer can also benefit you in the good times. What is your soul purpose? My esoteric readings can give you a glimpse of your past lives, let you know who your spirit guides are and what they are like, and so on.

Many people have told me that my readings are insightful (and occasionally, uncanny or amazing!). I can help you deal with relationship issues, work and career, finances, or spiritual issues. Click below for a form, send an email, call, or visit my Facebook site to contact me for a cosmic ride. I have querents ask how I can know all of this! The answer is simple: it's in the chart.

I think astrology, well done, is needed by many people who can greatly benefit from knowing more about themselves and what the future might bring. Another necessary element in any given person's life that is missing, in my view, is someone who can objectively listen to their concerns. I offer both...

My method involves communicating an extraordinarily complex mix of symbolism, intuition, and logic to the querent in an understandable way.



I am currently rearranging my price structure. Right now you can receive a 5-6 typed report, created by me. The report includes an analysis of your natal promise and progressions and transits. The report is very useful for predicting future trends. The cost is $99.



Explanation of services


The full natal reading or soul purpose and life path reading is a typed report (along with the progressions and transits) that includes a phone or in-person consultation lasting about 90 minutes. The natal reading uncovers my interpretation of the energies imbued onto the querent at birth and how the natal promise might be effectively used. Must have date of birth, place of birth, and especially time of birth.
The progressions and transits report is also a custom, typed report that may vary widely in length. This report predicts trends in your future. Having the natal reading done prior is essential. The progressions and transits analysis has enormous potential, assuming you want the information and will attempt to use it after the consultation.
The solar return reading also requires prior knowledge of the natal chart. The solar return reading reveals trends in the upcoming year starting on your birthday. I've given very effective solar return readings and use an established method for doing so.
The synastry reading for couples is one of my specialties. I use a method that looks at over 180 aspects between two natal charts to predict (not dictate, however) how a couple considering marriage, or any two people, will potentially interact and how long they might stay together. Includes a custom, typed report and a chat by phone if you wish.



You may wish to have an election done. I can find an appropriate time, and hopefully the best time, given any constraints, to be married, buy a house, have surgery, or deal with some other major life event. The length of the report can vary and I will give a fair estimate of the time and cost involved to arrive at a conclusion.
If you have a serious interest in astrology, I am willing to do tutoring. The rate may vary and depends upon my current state of activity.
The possibilities are enormous for astrology classes which would basically be tutoring more than one person at once. I am willing to be very flexible based on how many students would like to learn from me. I have teaching experience and a self-created curriculum outline.


If you're still reading...don't hesitate to visit www.facebook.com/triplewaterastrology, and also sign up for my free monthly email newsletter. You will receive an overview of how I do astrology and you can benefit from the information I provide, although it won't be directly applicable to your own chart.



Please click below if you have an inquiry regarding my services, or if you have a general question about astrology.
I will answer questions and inquiries as quickly as possible.
All information is treated confidentially. Most likely I will answer general questions about astrology on my Facebook page.





Click here to go back to front page
&nbsp&nbsp&nbsp&nbsp&nbsp&nbsp&nbsp&nbsp&nbsp&nbsp&nbsp&nbsp