Services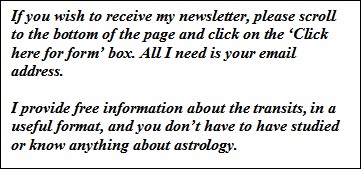 "Millionaires don't use astrology, billionaires do." - J.P. Morgan

While I can't guarantee that anyone will ever be a billionaire, one of the reasons I study astrology and offer readings is to help people realize that it's not so much what you have in your chart, but how you use it! With this in mind, a person might substantially benefit by recognizing what energies are currently in the heavens (transits), what energies have been imbued on them at birth (natal chart), and the state of their life thus far (progressions) in order to determine how to effectively apply their energies to projects, work and career, home life, relationships, how to budget available resources, and choose how to express themselves spiritually.

I have studied and learned from some of the best astrologers in the business. My readings include a typed report made just for you, or a recording that can be listened to as often as you wish. You may also choose to ask questions and chat about the reading via telephone or in person after I send the report or recording. You are much more than one of the twelve brief descriptions about the Sun signs in a newspaper column! A reading from a competent astrologer can be a valuable asset as you navigate the waters of your life.

Explanation of services and prices

Please understand that my readings involve a great amount of time and effort to prepare. I have learned from the best astrologers in the business, from books and in person, and I am constantly pushing myself to be among the best astrologers in the business. That is why I charge what I do. My readings are all about you and the difference between my reading and a computer report is the difference between sitting in the front row at a concert seeing your favorite band and listening to one of their songs on the radio.


The full natal reading or soul purpose and life path reading is a typed report (along with the progressions and transits) that includes a phone or in-person consultation. The natal reading uncovers my interpretation of the energies imbued onto the querent at birth and how the natal promise might be effectively used. Must have date of birth, place of birth, and especially time of birth. Please use this format when you send your birth data: July 20 1973 2:28pm Omaha NE USA ...$199 (scroll down and 'click here for form')
The progressions and transits report is also a custom, typed report that may vary widely in length. This report predicts trends in your future. Having the natal reading done prior is essential. The progressions and transits analysis has enormous potential, assuming you want the information and will attempt to use it after the consultation. Included with natal reading.
The solar return reading also requires prior knowledge of the natal chart. The solar return reading reveals trends in the upcoming year starting on your birthday. I've given very effective solar return readings and use an established method for doing so. ...$119
The synastry reading for couples is one of my specialties. I use a method that looks at over 180 aspects between two natal charts to predict (not dictate, however) how a couple considering marriage, or any two people, will potentially interact and how long they might stay together. Includes a custom, typed report and a chat by phone if you wish. ...$119
You may wish to have an election done. I can find a propitious (this is an uppity word for favorable) time, given any constraints, to be married, buy a house, or deal with some other major life event. My method is based on Joann Hampar's excellent work. ...$99
If you have a serious interest in astrology, I am willing to do tutoring. The rate may vary and depends upon my current state of activity.
The possibilities are enormous for astrology classes which would basically be tutoring more than one person at once. I am willing to be very flexible based on how many students would like to learn from me. I have teaching experience and a self-created curriculum outline.


Please visit www.facebook.com/triplewaterastrology, and also sign up for my free monthly email newsletter. You will receive an overview of how I do astrology and you can benefit from the information I provide, although it won't be directly applicable to your own chart.



Please click below if you have an inquiry regarding my services, or if you have a general question about astrology.
I will answer questions and inquiries as quickly as possible.
All information is treated confidentially. Most likely I will answer general questions about astrology on my Facebook page.





Click here to go back to front page
&nbsp&nbsp&nbsp&nbsp&nbsp&nbsp&nbsp&nbsp&nbsp&nbsp&nbsp&nbsp